Bruin Athletes Commit On National Signing Day
Every year on the first Wednesday of February, athletes for all sports across the country announce their official commitment for NCAA athletics.
This year, several LB athletes, from many different sports, announced their commitments, committing to schools all around the country. On National Signing day, athletes sign their National Letter of Intent, declaring where they want to sign and play in college. In total, LB had 14 student athletes commit on National Signing Day, with players from Girls Soccer, Football, Swim and Dive, Field Hockey, and Crew.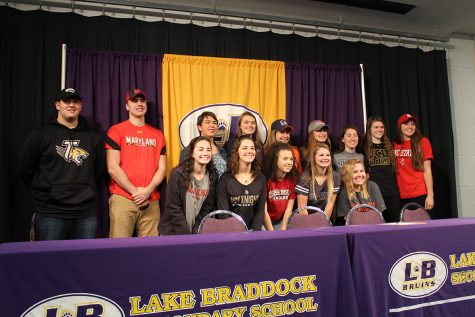 Girls' Soccer had the most commits, sending seven players to schools from Texas, Pennsylvania, North Carolina and here in Virginia. While many of the girls had previously announced their commitments, they made it official by signing their NLI forms. Senior Rachel Moody, who announced her verbal commitment in March of 2016, made her commitment to Virginia Commonwealth University official today.
"I love the team [at VCU]," Moody said, "and I'm excited to be pushed to do my best."
For football, seniors Jacob Laub and Andrew Park officially announced their commitments to Towson University and the University of Maryland College Park. The two players have been on varsity since their sophomore year, and join fellow senior Lamont Atkins as Bruin football players playing at the next level. Atkins committed to the University of Virginia earlier this year, and decided to become an early enrollee at UVA, enrolling this past January.
"I chose Towson because it's close to home and near my family," Laub said.
Senior Haley Hopkins also committed to UVA, but for Field Hockey. The 2016 Patriot Conference Player of the Year verbally committed in April of her junior year, but made it official today by signing her NLI.
"I really wanted to go to UVA because of the outstanding academic program as well as the top five ranking of their Field Hockey program," Hopkins said, "and just all the vibes of the campus. I really see myself succeeding there both on the field and in the classroom."
Senior Hannah Hale declared her commitment to Davis & Elkins college on a swim scholarship, and was the only LB swimmer to commit on National Signing Day.
"I chose the school because when I went up to visit it everyone that I met was so welcoming and kind to me," Hale said, "and I liked how the classes were ran. The coach was also very nice."
For Crew, LB sent three students to schools along the East Coast. Senior Izzie Gonzales committed to the University of Alabama, making her commitment official after verbally committing in November.
"I love Tuscaloosa and everything about the campus," Gonzales said, "and the team just seemed like the right for for me."
While many athletes have committed already, there are still many with offers, still weighing their decisions. Not all student athletes commit on National Signing Day, and many more will commit in the coming months.
Leave a Comment