Wintery Watch-List
Netflix shows to binge during the holidays.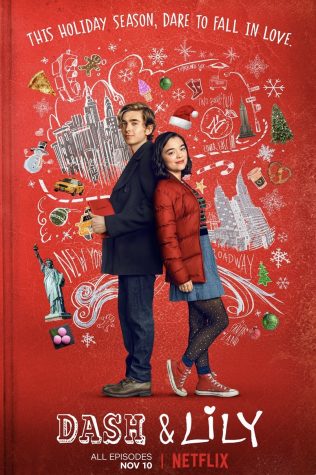 Netflix releases Dash & Lily, a holiday adventure. Photo Courtesy of Netflix.
No matter what holidays you celebrate, Netflix Original movies and shows are always exciting to anticipate. Whether it's a show based around the end of year get-togethers, watching holiday movies and shows with your family or friends is a fun pastime for your days off school.  
Trinkets, which was originally a novel written by Kirsten Smith in 2013, follows three unlikely friends who meet in a Shoplifters Anonymous meeting. Elodie is a girl who lost her mother the previous year and moves with her family to Portland, Oregon. She gets caught shoplifting and crosses paths with two girls that will change her life: Tabitha, with her seemingly perfect life and wealthy family; and Moe, an unexpected genius who wants to hide it. They bond over their outsider status and poor treatment by their families. Whether it's coming out or holding in a family secret, each girl deals with and attempts to overcome ongoing traumas and life challenges while trying to live everyday high school lives. Although sometimes the show's timeline of events is unclear and moving at a seemingly slow pace, I enjoyed this show. Typically I enjoy shows I can relate with. Trinkets changed that for me. I don't connect specifically to any of the characters in the show, but their different backgrounds and stories coming together inspired me.
Sugar Rush, a popular baking show on Netflix for almost three years, is coming out with their second annual Christmas themed season. Hosted by Hunter March, each episode consists of four teams of two bakers and three rounds of baking, each with a different theme. First, bakers are challenged to make cupcakes with a fascinating wintery theme. The second round is confections; contestants bake a warm treat to enjoy on a cold day. Lastly, the remaining two teams bake a Christmas themed cake and decorate it for the cold and frosty holiday. The winning duo receives 10,000 dollars. The pairs are always creative and inventive with their desserts, and you will, undoubtedly, get hungry watching. Holiday-themed baking shows always catch my eye. So I was excited to watch this show with my family. We found ourselves watching multiple episodes each night, enjoying the show more and more. My family is competitive, so we each chose a team to root for, bragging rights as the prize if their team won.
Holiday Home Makeover with Mr. Christmas follows interior designer Benjamin "Mr. Christmas" Bradley as he decorates and brightens up homes for his favorite holiday. From lights to garlands, "Mr. Christmas" creates Winter Wonderlands. Not only do you watch houses get redecorated for Christmas, but you also get tips and tricks from Bradley to make your home the most outstanding in your neighborhood. The holidays are all about getting together with your family and doing traditions; this is the perfect show to watch with your whole family. Along with Netflix, you will always catch me watching HGTV around the holidays. I want to be an architect when I grow up and interior design is one of my favorite things. No surprise that I would love Holiday Home Makeover with Mr. Christmas. By the end of each episode, I found myself showing my Dad how we needed to step up our Christmas decor inside and outside the house. This show is the perfect show to watch with your family.
Grand Army takes place in Brooklyn, New York, and follows five students who attend the city's largest high school. The main characters deal with real-world problems, such as racism and drug use. First-generation Haitian-American Dominique has to take care of and raise her younger siblings as her own; Jayson and John have to deal with being racially stereotyped after a city-wide emergency. Laila attempts to fit in after being teased for her ethnicity. While all the students lead very different lives, they have in common that they all feel undervalued and misunderstood. Grand Army Immediately reminded me of Stranger Things and Euphoria. All three of these shows take place in High School and have the same morals. After each episode, Grand Army left me thinking about how my friends, teachers, parents, and myself all see things in a different perspective.
Dash & Lily is about two teens in New York City for Christmas. Dash despises Christmas and would instead find a good book to read. Lily loves Christmas in all it's wintery joy. Lily's worst Christmas is when her family leaves town, and she is lonely for her favorite holiday. She decides to put a journal with riddles about herself in a local bookstore in hopes for someone to find and solve them. Dash stumbles upon the mysterious journal and is intrigued. The journal travels all around the city, always with a new clue on where it would be. After leaving riddle after riddle and dare after dare, they finally meet. Both Dash and Lily learn so much about each other and themselves, and Christmas is not always about flashing lights and caroling. Dash & Lily is not my typical holiday show, but I frequently wondered what was going to happen next. Yes, it is a sappy love story, but when watching, you feel out of reality and as if you are in New York City, just like the characters. Both Dash and Lily got me more excited for the holiday season.