The Sound of Fashion
February 13, 2016
Thursday night, Lake Braddock's Little Theatre was filled with loud music, a full house and the scent of hairspray at the fifth DECA fashion show with fashion marketing teacher Ericka Symonette overseeing. Students from middle school to 12th grade, as well as 12 teachers, participated in this year's show whose theme was "The Sound of Fashion". Models adorned in looks from every era and backed by a soundtrack that ranged from Tupac to The Beatles, the show was a hit. When you walked into entrance 14, there was a photographer ready to snap a picture of you and whoever accompanied you to the show as music radiated from the theater. No seat in the audience was left empty, and every seat was a good one.
"I am super proud of the team," Symonette said. "They did a phenomenal job. I am overwhelmed by how many people showed up and how awesome the show was."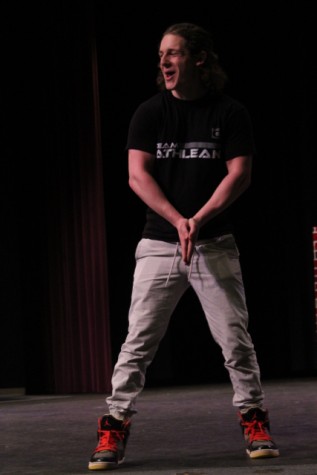 Kerry O'Hare
The atmosphere was just as lively backstage as it was behind the scenes.
"I'm so glad that it is over and that all our hard work paid off," senior Celena Chandler said, "I got all my nervousness out and all of my anxiety is gone. I know we all did an incredible job."
Chandler modeled in several scenes, including the final scene, which consisted of seniors dressed up in formal attire. The senior scene was a hit with all who attended the show.
"I thought the dresses were all beautiful," junior Skyla Davidson said. "I liked how everyone got to show off their unique personalities through the dresses that they wore."
While many people in the audience were seniors and do not get another chance to participate in the show next year, a lot of those who attended were underclassmen and have decided to participate in the show next year.
"I definitely want to participate in the show next year," junior Fanu Sisay said. "Especially seeing my brother was in the show. That was really cool. It makes me really want to come back and do it next year."